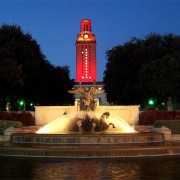 During the fall of the year, there is nothing more Longhorn than sharing a tailgating party with fellow Longhorn-loving friends and family. Whither inside or out, the tailgating party is a perfect combination of sports, food and fun. Tailgating is easy and fun. Here's information on watch parties, tailgating events, and a few things to consider when preparing to tailgate.
Join the Texas Exes LGBT Network for Tailgating or Watch Parties on the Following Dates:
To find dates and times for future tailgating events, you can visit their website or Facebook group.
Just what is a tailgate party?
The tailgate party revolves around professional, college or school sporting events. It is the sharing of team spirit with good friends and delicious food. It is the ultimate in urban picnics held in the stadium parking lots. Tailgate parties can also be held on the side lines or in the stands at high school and grade school sports games. Tailgating is not just for football, although most tailgates involve a football game. The unique party can easily be held at soccer and baseball games. In addition to the food, guests bring team flags and other sports paraphernalia.
Wear the team colors
Support the Longhorns in every way possible. Invite fellow guests to wear burnt orange and white in sport jerseys, t-shirts, tanks, or bring team pennants and flags. Beautify your party area with pom-poms, flags, car magnets, and team banners.
Network
Treat the tailgate party like a networking party. Start up a friendly conversation among other tailgaters.  A friendly Hook Em' might land you a free beer, free hamburger, or new tailgating buddy.  Ask around work or school to see if anyone is tailgating for the next home game.  In addition, several companies use the tailgating experience to promote their goods and services.  If you make time to walk around boundaries of 17th street and MLK; you will find live music, food vendors, and fun games for youth.  Some companies have free space-limited promotional venues on game days.  They are usually promoted on social media sites like twitter and facebook.
The Tailgating Menu
Food is by far one of the most crucial part of the tailgating party. Grilled-food staples, include burgers, sausage, chicken, pork chops and baby-back ribs. If you have ribs, precook them the night before and keep them on ice. Start grilling immediately when you reach your site.
Bratwurst or Italian sausage and peppers are other staples of the tailgating party menu. Marinate bratwurst in your favorite beer before cooking will make them juicy.
Make chili, a one-pot meal favorite of tailgaters. Try different kinds of chili made with turkey, pork or beef. Add black beans, hot peppers and sausage for an extra kick.
Don't Forget the Tailgate Party Munchies
Nachos are a terrific tailgating munchies tradition. Simply prepare chips, refried beans, salsa, guacamole and cheese on a warming plate; it can be ready in minutes.
The Beer
The beverage of choice for most tailgating parties is beer. Many tailgaters prefer kegs, other bottles of their favorite brew. It is always excellent idea to check the official rules (link below) before consuming beer and alcohol in public. It may be a good idea to do away with glass bottles and drink from plastic cups or have cozies.
Accessories
Bring an ice chest or cooler on wheels for easy transporting. Freeze water bottles to use as ice packs. Frozen water bottles not only are suitable as ice packs, but also provide cold, refreshing water for the trip home.
Other items needed are plastic containers, baskets, dishware and silverware. Zip-lock bags are also a good idea. You'll need sealable containers to transport the prepared foods, as well as for the left overs.
Large picnic baskets with many compartments are ideal for tailgating parties. Multi-purpose wares like large serving bowl, platters and casseroles also come in handy. Choose items that can go on the grill or in the oven and microwave. They should also be freezer safe. Of course, you also need standard items like grilling utensils, plastic cups and lots of napkins. Whenever possible, opt for disposable and biodegradable items.
Miscellaneous Items
Outdoor parties like tailgating, there is a need to bring camp chairs, folding tables, tent, blankets, and in some case, rain gear is an excellent idea. Small generators can help power electrical appliances for cooking as well as mini fridges and heaters.
For night games, bring basic battery operated lanterns to illuminate the party. Holiday white lights operated by generator will also add to the energetic spirit of the party.
Get Everyone Involved in the Planning
A large tailgate party can be an overwhelming task to plan and organize. An easy trick is to delegate responsibility and get all your guests involved. Recruit friends and family to handle each aspect of the party. Start a few days before the game to begin preparing. With everyone pitching in, the tailgate party well be a great success.
The LGBT Texas EXES will soon be announcing our own tailgate and away game viewing parties.  Check back soon for official details – Facebook and Website.
Below are the official policies and procedures for tailgating:
http://www.utexas.edu/parking/parking/specialevents/tailgating/rules/tailgating.html#fee