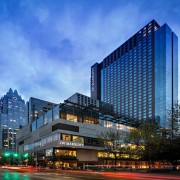 Whether you're visiting the great City of Austin for the glitz and glamour of Formula One or the invigorating experience of South By Southwest (SXSW); When in the blue oasis that is Austin, you need to sleep like you're in paradise. Not all hotels are made the same, and not all hotels can cater to the exquisite taste of the gay man.
Fine picking the creme de la creme of hotels in Austin, is surprisingly difficult with a plethora of unique boutique hotels and renovated Southern mansions–the pearls, however stand out and have a luster to them. Whether that be the W Hotel's "whatever, whenever, wherever" motto to satisfy even the most eccentric of requests to the Driskill's historic appeal where rooms get occupied by Presidents. There is an ambiance that will leave you with an impression, one that will continue to glow long after you've left the nest of liberals in the heart of Texas.
W Austin Hotel – Website
Ask any resident of Austin for the most well-known, well-respected "gay hotel" in the city, and you'll undoubtedly be directed to the luxe W Hotel off 4th Street (the gay district). And with good reason, because the internationally recognized hotel isn't just smoke and mirrors, it lives up to it's reputation with it's constant influx of billionaires and celebrities that require only the utmost of service. With that being said, the 37-story contemporary hotel boasts a plethora of amenities fine-tuned for the gay man. They're rooms are lined with concrete pillars and floors, with minimalistic decor, reminiscent of something you might find in Sweden's luxury hotels.
The rooms are only a slice of the pie that is this gay man's hotel dream, their lounging areas are by far some of the friendliest in the city. The W holds a kaleidoscope of themed rooms on the 1st floor for anyone dressed to impress. If you're yearning a romantic and low-lit ambiance, you can relish on half-price appetizers (7-10 PM) and cocktails in the Red Room. Or if you're wanting something a bit more relaxing you can bronze your skin under Texas' sun at the W's 4th-floor pool. With cabanas, bottle service, and amazing mango margaritas available at the flick of a wrist, all poolside.
Travassa Austin – Website
A little-known gem in the heart of Texas, is the Travassa located near the gay and clothing-optional beach, Hippy Hollow on Lake Travis. Now if you've ever visited Austin during the hot summer months or early Spring, then you've heard of the boat extravaganza known as Splash; where all of Texas' major city travelers go to socialize and relish in the boat life. If you're in town for this very special event, then the Travassa is one of the best options because of it's close proximity to Hippy hollow and downtown Austin.
The Travassa has a long list of amenities on it's massive 210-acre land, including an 11 room spa with both dry saunas and luxurious hot tubs. On top of that, the Lake Travis hotel hosts a variety of classes for that lazy Saturday afternoon with nothing to do, including: archery, horseback riding, yoga, and even sketching classes from Austin's native artists.
If you're looking for a weekend of experiences with your closest group of friends or your significant other, then the Travassa Austin is surely one to leave you feeling exhilarated. There isn't a shortage of activities on this hilltop resort, so bring the vitality with you.
Four Seasons Hotel – Website
One of the most enchanting views in Austin is the one from the Four Season's restaurant, Trio nested on downtown's Lady Bird Lake. One might think that the Four Season's location right in the heart of Austin and only a few blocks from it's gay district would be riddled with chaos and the humdrum of city sounds, but that isn't the case with this luxurious hotel. As a matter of fact, this 291-room hotel built in 1987 feels more like an oasis in the middle of all the chaos that sprawls from downtown.
In addition to being the get-away from downtown for diplomats and foreign dignitaries, the Four Seasons boasts a 5,500 sq feet spa with 8 rooms to satisfy even your most eclectic of desires.
The most exciting aspect of staying at the Four Seasons however, is the "location, location, location" as any good realtor would say–the Four Season's location right on the lake, allows for a leisurely ride on kayaks straight from their backyard. Which is a beautiful, awe-inspiring experience with views to be remembered for a lifetime.
Gateway Guesthouse – Website
Unlike your traditional hotel, there is something truly beautiful about lodging in a custom boutique hotel. Such as the Gateway Guesthouse located within walking distance from Lady Bird Lake and SoCo (the hipster's paradise known as South Congress). Local celebrity chef, Blaise Bahara and his life partner Bess Giannakakis, designed this gorgeous 6-room slice of heaven with the gay man's taste in mind.
Every room is decorated slightly different, following a variety of different themes from around the globe. Glimpses from the many world travels the owners Blaise and Bess have taken together over the course of their years-long relationship. If you choose to go with your very own partner, their top floor loft has it's own private deck overlooking the brightly lit Austin skyline.
Be bold, and strive to be different while you're in the city so famously known for being "weird". This nontraditional hotel, will create memories that will last a lifetime.
JW Marriott Hotel – Website
One of the single most luxurious built hotels in the city of Austin is the JW Marriott–Austin's premiere hotel for tech billionaires and galas. Located downtown on second street and Congress, this newly built goliath is the place to stay if you want to feel the vitality of Austin at full force. With 34 stories and 1000 rooms, the JW Marriott is Austin's largest hotel with just about every amenity you can imagine. With a total of three different restaurants, one jaw-dropping pool with views of the glass buildings and Lady Bird Lake, this new Austin gem will be sure to impress.
As a matter of fact, the hotel is so popular because of it's high ceilings and modern architecture that the establishment is booked for the next five years for a variety of galas, corporate events, and birthday parties for both the nouveau riche and old money.
All in all, whether you're in the great City of Austin for pleasure, for leisure, or simply for the thrill of adventure. There are more than enough hotels and boutiques to fulfill your longing desires. The key to finding the gay friendly hotels doesn't lie in the luxury or the upscale but in the openness and willingness to cater to our fellow gay brother and sister with open arms. Because at the end of the day, compassion is the single most important aspect when it comes to selecting the best place to rest your feet when in the oasis that is Austin.