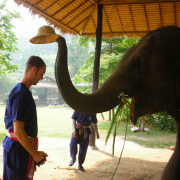 After 7 months, 30 cities, and close to 100,000 miles, I have returned home to Austin!
This last flight marked the end of my travels as the Gay Travel Guru. While I wasn't able to pick up a gift for everyone to say thank you, I do have one last small token of my appreciation for everyone's support, hospitality, and encouragement along the the way.
Winning this contest, and having the experience, was only possible because of your support. Please share this with anyone that supported me during the contest!
I look forward to seeing everyone at the GayinAustinTexas.com Happy Hour and catching up!
-Bryan
View a few of the other videos from cities I visited and wrote about for GayTravel.com… 
Audition Video 1: Austin, TX

Audition Video 2: Austin, TX

Final Video: Aspen, Colorado

Key West Pride

Bangkok, Thailand

Chiang Mai, Thailand

Thai New Year

Gay Napa and Sonoma Valley

Big Gay Wine Train – Out in the Vineyard

Gay Days Disney World