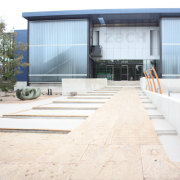 T-Minus 8 days until the ZACH Theatre's New Topfer Theatre opening weekend and I've heard from numerous people this theatre is phenomenal. I had a chance to see the theatre first hand and I have to say, they were correct! Designed after the Steppenwolf Theatre in Chicago, the designers were able to take an already amazing theatre design and improve on it for the ultimate theatre experience in Austin! With the ability to seat 420 guests, while still maintaining an intimate theatre-going experience, Topfer Theatre will become a staple in Austin's art and theatre community.
For the hardcore theatre goers, here's the specs on the new theatre:
The Topfer Theatre has more than 26,000 square feet of space, doubling the capacity of the previous theatre. The Karen Kuykendall Stage will be a proscenium theatre with a 44-foot-wide opening and an 80-foot-wide deck and stage house. My favorite fact: Karen Kuykendall's ashes were built into the stage. A distinguished actor in Austin, her family felt there was no other place she'd rather be than front and center on the new stage. The theatre has a fly tower, 20-foot wings, a fully trapped stage, an orchestra pit when desired, the latest sound, video and lighting technology, and rooms accommodating up to 40 actors. There's an atrium underneath the stadium seating where cold air is pushed and then it's allowed to rise through the vents. This prevents the performers from having to compete with the AC noise. Also, the left and right wings are completely separated with a rubber strip so the AC unit vibrations don't impact the main stage. This is truly a state-of-the-art theatre and will be a great addition to the Austin community!
Photos of ZACH Theatre's New Topfer Theatre – Final Details Being Finished
Opening Performance for Topfer Theatre + Wilde Party! 
Ragtime will be debuting as the opening performance with a cast of fifty. I've been told the new stage and acoustics will blow us away with this performance. This season's shows include Ragtime, White Christmas, 33 Variations, Mad Beat Hip & Gone, Harvey, TRU, and Santaland Diaries. Have you heard about ZACH Theatre's Wilde party? The Wilde Party is held on the first Thursday of each Mainstage show's run, they hold a party for Austin's GLBT community.  The pre-show party starts at 6 p.m., with the curtains opening at 7:30 p.m. The Wilde Party for Ragtime will be held on Thursday, October 18th. Just like the Gay in Austin Happy Hour, we're always looking for opportunities for new people in town and Austin's professional community to connect.
Volunteer Opportunities with ZACH Theatre
Although ZACH Theatre has currently reached their capacity for number of volunteers, there may be opportunities to volunteer at special events or future shows. You can submit your name for future volunteer opportunities. If you're new to town or looking to expand your social circles, this is a great opportunity to get involved and make new friends.
Neighborhood: South Austin, Downtown Austin – For more information about Downtown Austin Condos for Sale and homes for sale in South Austin, visit www.Reatx.com.