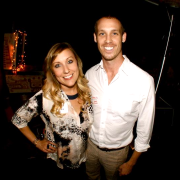 No one accepts an invitation to a fabulous party with the intention of standing in a corner alone.  But relocating to a new area, no matter how fantastic, can often feel just that way.  Without the right insider information about where to go, what to do and whom to meet, the excitement of the new adventure is all too quickly replaced with buyer's remorse.
A common theme formed amidst the newcomers to Austin's gay community – there was a lack of quality information to help get them settled in quickly. As a real estate professional tasked with introducing Austin to potential residents (or re-acquainting those who already call the city home), Bryan Kosarek couldn't help notice the void.  He saw only two options:  sit back and hope it would eventually be filled or get engaged and do it himself. So he began to blog … and blog … and blog.
GayInAustinTexas.com was born out of Bryan's genuine desire to give a great city a worthy first impression.  What began as a casual creative outlet to bring people together grew quickly.  He felt that virtually connecting people was only part of the goal, so a monthly Happy Hour took the notion of interaction a step further.  Those who were familiar with the blog suddenly had a place to meet fascinating new people on a regular basis; small gatherings became big crowds. Bryan realized that the momentum exceeded the bandwidth of a single person and after meeting dynamo Kelly Schneider at one of the Happy Hours where he played host, wisely enlisted her viewpoint, energy and assistance as co-publisher.
Both Bryan and Kelly have a shared love of Austin that comes from two refreshingly different perspectives:  she's a fourth generation Austinite while he's a Chicago native who moved here after graduating from a nearby college. He's been serving as an unofficial tour guide to friends and family for the past decade; she came out in her mid-20s and realized there was an entirely different side to the city she had never experienced.  As a partner in a public relations firm with an extensive corporate background, Kelly is on the pulse of local business. However, her true passion lies in giving back, so she stays active in networking and is heavily involved with activism and charity work. Between the two, there isn't a good cause, boutique, dive bar, delicious brunch spot or great hike they don't know.
Unlike San Francisco or New York, Austin still has the feel of a small, friendly town that's been cloaked in the urban trappings of a big city.  Often used as a prime example of modern diversity, there really aren't predominantly gay neighborhoods (read: Gay Ghettos) and the bar scene is relatively small by comparison.  Well then where are the gay people? The answer is: absolutely everywhere.  Through the blog and Happy Hour, Bryan and Kelly are committed to introducing intelligent, dynamic people as they relocate to the area.  Together they continue to look for new ways to turn strangers in to neighbors and friends, while GayinAustinTexas.com really has become the quintessential relocation (and re-familiarization) guide for Austin's unique and amazingly awesome gay community.