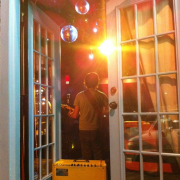 Go out, get drunk, and wake up with a hangover. Feel like your weekend routine doesn't change and you're going to the same places in Austin?
Check out our list of 50+ non-drinking things to do in, and around, Austin!
Just as a quick note – Always call ahead to make sure these places are still open, have availability, and confirm times. Things are always changing in our ever growing city.
1. Get a dessert at your favorite restaurant – Eating out doesn't have to be expensive. For last then $10-$12, Swift's Attic, Halcyon, Uchi, Uchiko, Mozart's, Gourdough's (just to name a few) offer amazing desserts you can share.  You can still enjoy the atmosphere, and surround yourself with people, without having to spending a lot at your favorite restaurants. You must try Popcorn and a Movie at Swift's Attic or any of the desserts at Uchiko.
2. Go bowling – Speakeasy on Congress Ave. and The Goodnight on Anderson Lane are two spaces that offer non-traditional bowling lanes in a more urban environment.
3. Go miniature golfing – Peter Pan Mini Golf is always a fun experience, and close enough to downtown, to still enjoy a night of walking to other spots around town.
4. Play a few games of Shuffle Board or Pool – There are more than enough pool halls and shuffle board tables in Austin. Buffalo Billiards is one of my favorite pool/shuffle board halls. Find the straightest bar with a juke box and play the gayest songs! You'll probably find a few other gays in the bar throw their hands up as Madonna or Lady Gaga starts blaring through the speakers.
5. Ride a Mechanical Bull – While most of these are located within a bar, it doesn't hurt to add this into the evening's events as you walk around downtown. Most people haven't been on a Mechanical Bull before, so hop on and see how long you can last. Rebels Honky Tonk is one of my favorite atmospheres to hear country music and watch visitors take a stab at taming the beast!
6. Walk for 5 Minutes and stop where you're at – There's nothing better than adding a little spontaneity into your evening and seeing what shows up. Walking around town allows you to explore new place. Set your timer for five minutes, start walking, and just see where you end up. Maybe you'll find yourself talking with a group of people, playing a game of skee ball, or even listening to a new band you'll actually enjoy.
7. Take a Stab at Karaoke – Whether that's at a gay bar, in a restaurant, or in a karaoke room with a group of friends, it's not too difficult to find a group of people singing in Austin. Rain on 4th St., Chinatown on 5th St., KTV Silhouette Lounge on Congress Ave., and Austin Karaoke on North Lamar are all fun places to pretend you're a star on American Idol.
8. Try different teas – Halcyon Lounge and Cenote are just a few places that offer a happening night scene and good vibe to feel like you're being social while not having to be at a bar. They offer a great selection of teas and maybe a little caffeine will give you the same buzz as drinking…but without the hangover.
9. Stop a stranger on the street and ask them their favorite place to go  (that doesn't involve drinking)- Who knows! You'll be surprised what you find out when you ask other people!
10. Have a conversation around the fireplace at the W Hotel – Especially on cold nights, all you need is a cozy fireplace and a friend to strike up a good conversation with. If you don't have a fireplace, stop over to the Living Room at the W Hotel and gather around with a few friends. Grab a cup of water or tea, and start chatting with a few friends around you.
11. Jump on a pedicab and have them drop you off at their favorite place – With pedicab drivers, they're are constantly exploring time. Jump on, ask them their favorite nighttime activity that doesn't involve drinking, and let them take you there! Other than cab drivers, who aren't always the coolest, who would know the city better?!
12. Play a Game of Jenga or Connect Four – Just because you're in a bar, doesn't mean you have to drink. Bars like Icenhauer's, Bar 96, and Kung Fu Saloon are just a few bars around town that have games to play while hanging out.
13. Listen to Live Music – After all, you are in the Live Music Capital of the World. You can pretty much walk anywhere in the Central Core and find a band playing. Whether you're looking at larger venues like Moody Theatre at the W Hotel, Stubb's Amphitheater,  or smaller venues like Lucky Lounge, Continental Club on South Congress, Speakeasy on Congress Ave., Cedar Street Courtyard, Elephant Lounge for Jazz, Eddie V's Lounge, Gloria's for Salsa, or Club de Ville, there's always the chance to hear great music. 

14. Walk the Capitol Grounds at Night – I'm sure you've visited the Texas Capitol during the day, but have you visited at night? Grab a tea or coffee at The Coffee House at the Hideout Theatre and walk up Congress Ave. to the Texas State Capitol. Walk the grounds, get some cute photos, and then find a bench to hang out on and talk. Surprisingly you'll find plenty of other visitors and runners there at night.
15. Go to a Comedy Show – With plenty of small theaters in Austin, why not take in a comedy or improv show. Some of my favorite are The New Movement, Cold Town Theatre, Cap City Comedy Club, Esther's Follies (have to see at least once!), and the Velv Comedy Lounge.
16. Catch a Movie…in Style – Alamo Drafthouse perfected the movie theatre that is actually fun and plenty followed. You can get your own recliner at Violet Crown Theatre or try the luxury movie dining and theatre experience at iPic Theaters near The Domain .
17. Hit Golf Balls 3 Stories Up – If golfing ranges are your style, reconsider my friend. Top Golf, the premier golf entertainment complex, recently opened up near The Domain in Austin and it's a three story golfing range. I've heard it is amazing from many and worth every dollar. Grab a small bucket of balls, step into the lights, and hit balls from 30 feet up! 

18. Go for a night swin at Barton Springs – What's more cold than a swim at Barton Springs? A night swim at Barton Springs! JUST KIDDING! Especially in the dead heat of summer, this is one of the most relaxing things to do. With the water staying a constant temperature, enjoy live music and bright lights while everyone comes out for a swim.
19. Check out third thursday at Blanton Art Museum – Nighttime, art, culture, and you're not drinking. Why not! The Blanton Museum is a great space if you like art and they may even offer yoga in the art galleries.
20. Walk South Congress Ave. during first Thursday – With all the restaurants and boutique stores staying open late, First Thursday on SoCo is a great way to fit in dinner, shopping, and socializing into one evening.
21. Enjoy a relaxing night at the Austin Symphony – Ok, I know the Austin Symphony may not be for everyone. But MAYBE, just maybe, you'll find yourself enjoying the symphony. If not the symphony, check out the Austin Lyric Opera. Not a fan of the opera? How about Ballet Austin? One of these will have to offer you a different experience other than the gay bars!
22. See the views from Mount Bonnell – Is this even legal at night? I'm pretty sure not, but I know people do. The highest point in Austin, you'll get a great view of the city. Love birds and visitors often make the trek to Mount Bonnell at night for a little romance or just to take in the views.
23. Get a group together for a Skee Ball Tournament – Several bars around town have Skee Ball lanes where you, and a few friends, can snatch up two and have a good ol' fasioned skee ball tournament. Kung Fu Saloon, Scoot Inn, Lavaca Street Bar. If you don't want to compete for the lanes *with people drinking*, you can always nab a few lanes at Dave & Buster's or Chuck-E-Cheese! If you find yourself enjoying this, Austin even has a Skee Ball League you can join and make more friends that way.
24. BINGO! – The possibility of winning cash during a game of bingo is always exciting! Although I'm convinced it's a conspiracy since someone always calls BINGO! right before I win. There are several amazing places near downtown if you're looking to play bingo. B-12 Bingo, American Bingo, and Shitty Kitty Big Ball Bingo at Rain on 4th are some of my favorite spots. You can even play for free if you tell them it's your first time there at American Bingo.
25. Kickstart the evening by watching the Bats on Congress Ave. Bridge – While this takes all but 30 minutes, watching the bats fly out from under the bridge could be a great way to kickstart an evening where you don't plan to drink. If you wanted to make more of a night, you can always take one of the cruises to get a little more up close and personal with the bats.
26. Go to Whole Foods – The flagship store for Whole Foods, or Whole Paychecks or Whole Dudes as we call it, is a great way to get some food, hang out, people watch, get dessert, and have a nice conversation outside on the terrace. This Whole Foods isn't JUST a grocery store, it's definitely an experience. Oh, and did I mention the hot guys?
27. Do a progressive dinner at different restaurants or food trailers – Why sit at one restaurant when you can make a whole night out of trying different foods at restaurants or food trailers in Austin? Choose your favorite part of town and restaurant as your work your way through a night of eating appetizers, soup, salad, split two entrees, dessert, and you can even ask them to make a non-alcoholic version of your favorite drink. This just sounds fun! You can even get six neighbors and do a progressive dinner with them. 

28. Sign up for Supper Club dinner – Whether alone or with a friend, there are several Supper Clubs around Austin. If you're not familiar with Supper Clubs, they're group dinners at various locations around Austin with four to six course meals. They can be anywhere, from a garden to a person's home. A few to check out are: Dai Due Supper Club, Bread and Circus Supper Club, Supper Friends, Secret Dining, Sapphire Room Supper Club, Dinner Lab
29. Go Rollerskating – Yes, I said rollerskating. When the last time you did that? Exactly! Checkout Playland Skate Center in North Austin or Austin Roller Rink in South Austin.
30. Get a group together for Blazer Tag – A little elementary, I agree. But once you're suited up and entering the dark room, you'll find yourself running for the dark corners, caught up in the moment, and enjoying Blazer Tag. While you are an adult, remember you will more than likely be playing younger kids. Don't go all Will Ferrell on the kids!
31. Take a cooking class with a friend – If you're like me, you tend to find yourself cooking the same five things over and over. Why not make a fun night, while learning to cook a new dish, and one of Whole Foods or Central Market cooking classes?
32. Take a ride on the Austin Steam Train– With themed events for Halloween, Christmas, and even a few dinners through the Hill Country, a ride on the Austin Steam Train will definitely show you a new side of Austin!
33. Jumpoline Park – Haven't heard of it? Check it out! Why should kids get to have all the fun in with this Jumpoline Center that is covered with giant trampolines!
34. Go skydiving indoors – Scared of diving from 20,000 feet? I don't blame you! iFly Austin has a wind tunnel that allows you to "sky dive", with their last dive at 10:30 p.m. Reservations are required, so check out their website to check availability.
35. Drive to a small historical town nearby – With Gruene, TX just 45-minutes away from Austin, why not take an excursion for an evening and try a restaurant, check out the shops, and hear a country band play at Gruene Hall. Especially during Christmas, Gruene is on magical place.
36. Volunteer and be an usher for a show – I don't know exactly how this works, but become an usher and volunteer at one of the major performing arts theaters. The Long Center, Bass Concert Hall, Paramount Theatre and State Theatre may have opportunities to volunteer and, in return, see a free show.
37. Pretend you're in the circus and learn Trapeze – Offering classes from 7:30 p.m. to 9:30 p.m. on Tuesday nights, why not take a break from reality and pretend you're in the circus at Trapeze Austin. Get hooked in, and go flying through the air on a trapeze, as you learn tricks just like carnies!
38. Take a late night yoga class– While Austin is one of the epicenters of yoga in the country, escape from your daily routine and enjoy yoga before calling it a night. With three locations, places like Black Swan Yoga, offers classes that go until 11:30 p.m. While it doesn't go as late, Wanderlust Yoga offers a more non-traditional yoga environment combining music and yoga.
39. Join s Social Sports Group – Whether you like volleyball, basketball, kickball, dodgeball, skee ball, softball, there's a sports and social club in Austin for you. While most play during the day, Austin Sports and Social Club and WAKA Kick Ball do play at night. It's a great way to be social outside of the bars.
40. Take a nighttime cruise– Capital Cruises and Lone Star Riverboat offers nighttime cruises along Lady Bird Lake/Town Lake. Take in the skyline from a completely different view!
41. Satisfy your need for speed and race cars- Home to Formula1, there's plenty of tracks around town if you need to satisfy your need for speed. K1 speed, Central Texas Speedway, Driveway Austin, and Austin's Park n' Pizza are all great options.
42. Check out a Texas Roller Derby – If you've never been to a Texas Roller Derby Match before, this should rank high on your list of places to go see. Filled with characters, tough chicks, and live music, some of the games are at night. Check the schedule to see if they're in season.
43. Go to a Quote-a-long or a Sing-a-long – The Alamo Drafthouse has a series of Quote-A-Longs, Sign-A-Longs, and Master Pancake Theatre where comedians rip a show apart while it's playing. Whether you consider yourself a nerd, diva, or pop-princess, you will more than likely find a fun event for you and your friends. Most of the Quote-A-Longs and Sign-A-Longs are on the weekends, so double check the schedules.
44. Join a meet-up that interests you – You're new, know nobody, but want to find a group you connect with…check out this website to see what meetups may be of interest to you.
45. Go to Dell Diamond for a Round Rock Express Baseball Game- I don't always enjoy sports, but when I do, I prefer live sports. The energy of the fans screaming never cease to make me appreciate a sport. Get out of Austin and head up to a Round Rock Express Baseball Game.
46. Go to the Horse Races – Well this isn't in Austin, it's just a short drive away. With a tank of gas, and a few bucks to bet on horses, you can spend Friday or Saturday nights at 7:15 p.m. getting caught up in the excitement of horse racing at Retama Park.
47. Join a Social Bike Ride – With several social bike groups in Austin, there is a Wednesday Night Austin Queer Ride with 10-20 people and a Thursday Night Social Bike Ride with several hundred people. If you have a bike, join them and make one of the weekly pilgrimages that Austinites love to make on their bikes.
48. Go on a Date? – The best part of being single is playing the field. As long as you play safe and don't play with people's emotions, who would it hurt to have a little fun, go on a date, or maybe fit in a little nooky. After all, you now have 49 other ideas of what to do on this date!
49. Play a game of social dice and see where you end up – Not sure what to do and where to start? Check out this game I created!
50. Candle Light Board Game Night in a Park– Pack a blanket, a few bottles of sparkling apple cider, eight candles, and head to park or picnic area which is well lit and you can play a board game. I would suggest the Lamar Street Pedestrian bridge if you have a card table, the picnic table on the north shore by Seaholm Power Plant, the hill to the west of the Palmer Event Center, or Republic Square Park.
51. Go Camping- Who says you need to be in town on the weekends? Get out of town and go camping at one of the many sites outside Austin. Here is a page that lists all the campgrounds in Austin or the top five campgrounds around Austin.  If you're more visual, click this map to see campgrounds around Austin.
And if all else fails! Maybe a good night of sleep or a AA meeting is exactly what you need. #JustSaying — We'll continue to add ideas as we come up with them.