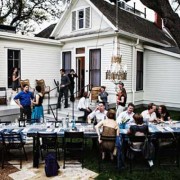 After living in a city for five or so years, it's easy to forget the reason you moved there and fell in love with it in the first place. No matter the city, this is pretty common. You get in your daily routine, focus on work, hang around the same friends, and don't put the energy into enjoying existing or new things that have come along.  Here are 31 ways for you to break out of your daily routine and rediscover your love for Austin. Try it for a month and see the amount of change and new people that will come into your life!
1. Go Kayaking to Get a New Perspective
The first way to rediscover Austin requires you to take a step back and see the city from a different angle. Whether you get a friend to join or you do this by yourself, rent a kayak, explore the banks of Lady Bird Lake, and look at how much the city has changed since you've moved to town. There's actually little coves along the banks of Lady Bird Lake, so see if you can find a few! And if it is raining, even better. One of the most amazing experiences I had on the lake is kayaking while it was raining. Stop your kayak and just feel the rain drops fall. Cost: $$
2. Exploration By Bike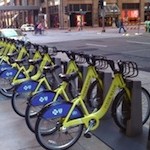 All too often we forget a world exists outside of our car. The details of the city are lost as you speed by in a rush to a meeting. Time to slow it down! Whether you have your own or need to rent a bike in Austin, take an hour or two to explore an area of town you enjoy. You will discover details you never knew existed before. Remember to take the time and stop. Stop to say hi to someone, grab a tea or coffee in a restaurant, or take a photo of something that makes you smile. Cost: $
3. Sit in One Spot and Let Life Pass You By
Just stop for a second. Instead of you passing by, stop and let life pass you by. One of the best spots to do this is on the Lamar St. pedestrian/Pfluger Bridge. They have benches that overlook Downtown and the Hill Country. You can watch people walking, running, pushing strollers, and if you're lucky, listen to a musician playing an instrument. Sometimes there will be painters working on murals of the area and I thought one day it would be fun to pick up some water colors and just sit there and paint.
Cost: $
4. Connect With Strangers Over Supper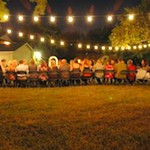 Have you ever sat at a table and enjoyed a meal with complete strangers? Maybe it's time! Austin has plenty of supper clubs and you will eat one of the most amazing meals you've ever had in Austin.  Our favorite supper clubs are the Dai Due Supper Club, 2 Dine 4 Supper Friends, and Supper Underground. Choose a meal that sounds good to you, sit at a table with 10-20 complete strangers, and let fate introduce you to someone new. Cost: $$-$$$
5. Explore a Long Lost Hobby
We all have hobbies, but sometimes life gets too busy to do the things we love. What's life if it's not filled with the things we love? Find a group that shares a common interest and pick up your long lost hobby. You can go to Meetup.com and explore the many groups that are meeting all over Austin. If you can't find a group you'd like to join, start your own group! Cost: $
6. Sing. Your. Heart. Out.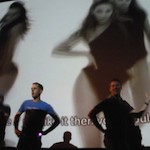 Most of us wouldn't sing in public at the top of our lungs…but WHAT IF you were surrounded by 100 other people singing at the top of their lungs? There's something liberating there! Go to an Alamo Drafthouse Sing-Along and let yourself go wild. The older you are, the more you'll love this. The Alamo Drafthouse has all sorts of Sing-Along. From Pop-Princess to Willy Wonka Sing-Alongs, there's always one to go to throughout the year! Cost: $-$$
7. Visit a Hill Country Winery
You may have not even known there were wineries right outside your city. Well, my friend, there's a whole emerging industry just outside the citylimits. With over 30 wineries outside of Austin, you can spend a whole year exploring the vineyards.  So pack a picnic basket, chose a winery or two, and make a day by exploring the amazing Hill Country wineries. Cost: $$-$$$ 
8. Dive the Trenches of Barton Springs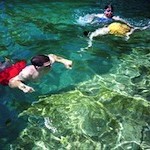 Most people sit on the hill on the south side of Barton Springs when they go there. But it took me six years to discover the turquoise and aqua blue trenches on the North side. If you think Barton creek is just filled with slimy seed weed at the bottom, guess again. Just 10 feet Northwest of the diving board at Barton Springs, there are 15 foot trenches that are clear and filled with different kinds of fish. Grab your goggles and take a whole new look at the springs. Cost: $ 
9. Go to the ACL Music Festival
I'm not one for lines and large crowds, but I had a moment in 2010 when I attended my first ACL Music Festival. Austin has plenty of music festivals, but the ACL Music Festival is one of the most well organized and enjoyable events I have ever attended in Austin. It's easy to get in, get a drink, and there's plenty of space to roam around. It was one of the nights in 2011 when I was sitting halfway between the two main stages. I had Kanye West playing to my right and Coldplay to my left. The backdrop was Downtown Austin lit up at night and the park was surrounded with lights shooting up into the sky. It was absolutely amazing. The event happens over 3 days, has 8 stages, and 130 bands. If you haven't rekindled your love for Austin by this point,  this event will make you fall in love with everything Austin. Cost: $$-$$$
10. Go to an ACL Taping at the Moody Theatre…Or Any Concert for That Matter.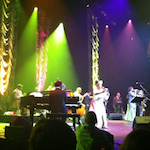 Let's get back to the basics here. Austin's nickname is The Live Music Capital of the World. There's no better way to rediscover the city than by watching live music. And I don't mean sitting in the back row. I mean getting right up front, feeling the beats in your body, and dancing till you can't move any more. That's how concerts are meant to be experienced.  When you are able to see the musicians facial features and connect with the music, you'll leave a changed person. You can visit the Austin City Limits TV website to see what is playing. Cost: $-$$$
11. Spend a Weekend Hanging Out in a Neighborhood You Typically Wouldn't
Austin is filled with amazing bars, restaurants, and shops. It's pretty common for everyone to meet downtown and go to the same bars. Instead of heading downtown, have your friends meet you in neighborhoods like Hyde Park, South Congress, South Lamar, South First, Clarksville,  East Austin, Mueller, The Triangle, Crestview, Allandale, ect. Remember to engage the locals, ask what they like about their neighborhood, and which places they enjoy going to. You can also use the Urbanspoon App to see what's around your location. Cost: $-$$
12. Go to a Dive Bar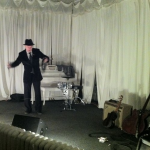 In honor of the Austin musician, go support a local musician in a dive bar.  Austin is filled with the quintessential dive bars with all sorts of music. Post the question "What is your favorite dive bar in Austin?" on Facebook so you friends can help you determine which bar you'll be visiting. South Lamar, East Austin, and North Burnet Road will offer you some of the best dive bars and opportunities to get out of Downtown. Cost: $
13. Sign Up for a Ballroom or Tango Dance Class…With a Friend or By Yourself.
There are over 20 dancing studios in Central Austin. For most, we have never been taught the foxtrot or the Waltz.  Even if you just learn one basic dance move, there are more lots of bars around Austin where you can go to practice your new dance moves. Some of our favorite bars to practice dancing include Swan Dive and Copa Bar. Make a not to take advantage of the free day of dance on January 21st.  Dance studios all around Austin will open there doors to let people explore ballroom and social dancing. Cost: $-$$

14. Skip the Grocery Store. Go Directly to the Farm to Get Your Fruits and Veggies.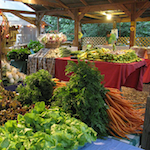 Although it's convenient to go to grocery store to get all your fruits and veggies, the experience and educational experience is lost when we rush in and out of the store. The first time I went to a farmer's market, I was actually surprised to see what real fruits and vegetables look like. Not the ones that are pumped with fertilizers. One week, schedule some time to stop by the urban farms like Boggy Creek Farm, Rain Lily Farm, or Springdale Farm to pick up some produce.  Cost: $-$$
15. Tailgate and go to a University of Texas Football Game
The University of Texas is at the heart of Austin. The Capitol and University of Texas are what established Austin, so it's only fitting to attend on of the games to rekindle your love for the city. Home to 50,000 students, you're in for a treat when you go to a UT Football game.  Cost: $-$$$
16. Zip Over Lake Travis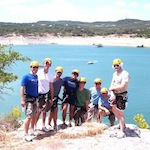 It's easy to forget we have a great natural resource just West of Downtown Austin.  Lake Travis. No matter the water level, there's always something to explore around this historical lake. Now that Lake Travis Zip Line Adventure is up and operating, it allows you to experience the lake in an all new way. Zip over the hills and back down over the lake from 2000 feet above the lake! Costs: $$

17. Build-a-Brunch on the Hill
Yah, brunches are always fun to go to when someone else is making it. But when's the last time you and your friends built-a-brunch together? After all, according to us, Austin is the city of friendships. You may have passed this spot on Cesar Chavez multiple times, but let us remind you. In the Northwest corner of Cesar Chavez and the Lamar St. Bridge, over by the old Power Plant, there's a long decorative picnic table on a hill surrounded by lamps. It's perfect for a brunch! Have ten friends each bring a different part of the meal and just sit there for two hours while enjoying the company. Surrounded by Downtown, the river, and traffic passing by, choose a Sunday when the weather is just perfect for a memory your friends will always remember. Cost: $-$$
18. Go to a Quirky Festival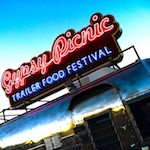 Austin definitely has its share of quirky festivals. Whether it's to celebrate Eeyore's birthday or to sample a bunch of food trailers at the Gypsy Picnic Food Trailer Festival, experiencing a quirky festival is always good for putting a smile on your face. Cost: $-$$
19. Experience a Spiritual Service
Sometimes it's good to just stop and reflect on life. No matter your religion or beliefs, finding a spiritual center that puts on a weekly service will allow you to think about your life and what's important. Although I'm spiritual, I'm not the most religious. My friend took me to the Austin Stone Community Church at Austin High School and I have to say it was a really cool experience. Here I am sitting in a school gymnasium, with rock band, listening to a young preacher just talk about the good we could do in the world. Whether you take the message to heart, it at least gives you time to reflect on life and see a different side of religion you typically didn't while growing up. Cost: $
20. Tube a Texas River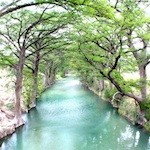 Although this isn't in Austin, it's not too far away and will make you appreciate the natural resources around Austin. Get a group of friends together and float the San Marcos or Guadalupe River.  One of our favorite tube rental locations for the San Marcos river is Don's Fish Camp Eskimo Tubes. There's something about tubing with friends down a cool river on a hot summer day and talking about life. Don't forget to look around and enjoy the native landscape these rivers offer. The 2-3 hour float will force you to relax and appreciate nature. Cost: $-$$
21. Revisit Your Texas Roots at the Texas State History Museum
Although Austin is a fairly young town, it sits in a state that has very deep historical roots. Understanding the history behind the state you live in is important and will make you appreciate the small things that have played a historical role in shaping the city you live in. The Bob Bullock Texas State History Museum and IMAX have amazing exhibits that take you through the history.  Cost: $-$$
22. Plan a Few Days to REALLY Enjoy SXSW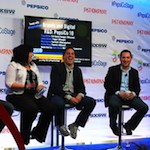 For some, the South by Southwest Festival can be an overwhelming time in Austin. However, for a lot of people this is one of the most magical times of the year in the city. In late March, over 200,000 people descend upon Austin to experience live music, film, and the interactive conference. SXSW brings amazing talent, interesting people, and the city takes on a whole new personality. Experiencing Austin during this time will give you a whole new appreciation. Cost: $-$$$
23. Have Sunday Mimosas on a Spring Day in Zilker Park
Spring in Austin is one of the best times of the year. While the rest of the country is thawing out from winter, Austinites are out enjoying parks across town. The grass is green, the trees are blooming, and the temperature is just right. Head down to Zilker Park on a Sunday and you'll find people playing soccer, volleyball, throwing a frisbee with their dog, and just relaxing on a blanket with friends. Get a bottle or two of champagne, some  orange juice, a just relax with a couple of friends on a blanket overlooking Downtown Austin. It's at that moment that you'll realize how great life is. Cost: $
24. Take a Weekend Trip Away from Austin
If absence makes the heart grow founder, then a trip away will make you realize what you miss most about Austin. Some of our favorite weekend getaways include El Cosmico or Thunderbird in Marfa, TX, anywhere in the Texas Hill Country, and the Riverwalk in San Antonio. Sometimes it's easy to stay in the liberal bubble we call Austin, but every now and then you need to break away to realize how good you have it. Cost: $$-$$$$ 
25. See a Broadway Show…
Who needs to go to New York to see a Broadway show? Broadway Across America brings the shows to Austin! Whether you go to Bass Concert Hall to see a Broadway show or other theaters like The Paramount, Zachary Scott, or The Long Center, sitting in a theatre to watch a live performance will always create a unique experience. Cost: $$-$$$

26. Visit with Artisans and Business Owners on SoCo for First Thursday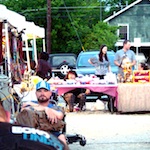 On the first Thursday of every month, you'll find South Congress Ave. buzzing with locals and visitors. This is a great time to head down to the avenue to enjoy the shops, hear live music, and eat at some of your favorite restaurants. Local artisans also set up shop in vacant lots to sell their craft. This is a great way to connect with the locals and talk to them about what they enjoy most about Austin. As business owners in a community, they definitely have unique insight into what's happening around town. Cost: $
27. Go For a Run with 10,000 People
When's the last time you've run with 10,000+ people? The Statesman Cap 10k has become an Austin tradition and is the largest 10K in Texas. Although this is a race, you'll find all levels of runners, joggers, and walkers in this run. While some take the race serious, others show up in costume to enjoy the Austin tradition. Out of all the runs in Austin, the Cap 10K is one people consistently say they will run in every year because it us so fun. Cost: $$
28. Enjoy the Annual Zilker Park Summer Musical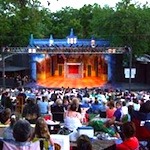 The Zilker Park Summer Musical has been an Austin tradition since 1959. Across the parking lot from Barton Springs Pool there's a hillside theatre where folks will set up their blankets and bring a little picnic basket with food and drinks to enjoy while watching the show. Since the summer nights in Austin can be a little warm, it is nice to jump in the springs right before the show starts, change into cool clothes, and then head back over to the blanket to watch the show.  Cost: $
29. Visit 300 Art Galleries…
Well you may not get to all 300 galleries, but the East Austin Studio Tour is a one of a kind opportunity to discover new artist in Austin. Happening around mid November for nine days, over 300 artist open their homes or set up their artwork in shops all over East Austin. With folks out walking all around the East side, it's a great opportunity to connect and meet new people. Once you've experienced E.A.S.T, you'll realize the rich wealth of talent that exists in Austin. Cost: $
30. Get a Group Together for Blues on the Green

Blues on the Green is an amazing way to enjoy great live music under the stars on a summer night. Gather some friends, a cooler full of beer, and join several thousand Austinites for a free concert series in June, July, and August. There's nothing like six free concerts to realize you actually do live in the Live Music Capital of the World. If you just stop and look around at everyone enjoying their friends, kids, and playing with their dogs, you'll realize how good life is in Austin. Cost: $

31. Experience the Joy of Life in Austin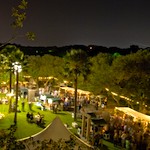 The ultimate way to rediscover your love for Austin is to enjoy life while checking out La Dolce Vita. The Austin Museum of Art holds the food and wine festival every year in October at Laguna Gloria. With over 50 food and wine vendors, you get to taste the best of Austin while walking around of one of the best italian villas in town. Cost: $$$
To keep up with GayinAustinTexas.com, follow us on Facebook, Twitter, or receive direct email updates. If you have any questions or suggestions, please feel free to contact us.
Photo Credit: Bike Share Program in Austin, Gypsy Picnic Food Trailer Festival, Supper Club, Barton Springs, Boggy Creek Farm, SXSW Interactive, First Thursday on South Congress, Zilker Hillside Theatre, Blues on the Green, La Dolce Vita Austin