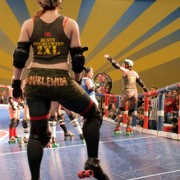 Looking for an event in Austin that is going to create a memorable experience? Well here's a list of 12 off-the-wall, wild and crazy fun events in Austin one must attend!
1. Austin Gorilla Run 5k –Facebook
@Downtown Austin in January
The Gorilla Run is a 5k run to benefit the Mountain Gorilla Conservation Fund. The 5K will take place on the streets of Austin with a few hundred runners,walkers, skate boarders, and bikers all wearing a full gorilla costume. Proceeds from the race directly benefit Ugandans, Rwandans, and citizens of the Democratic Republic of Congo in veterinary educational training, with the end goal of protecting the highly endangered Mountain Gorillas in Africa. In 1987 there were only 248 mountain gorillas alive in the world, but through the veterinary and conservation efforts of the MGCF, the population is now up to 720.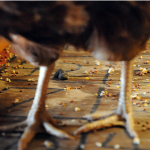 2. Chicken Shit Bingo 
 @Ginny's Little Longhorn Saloon all year long on Sunday's at 5:00 p.m. (get there at 3 p.m.) 
Chicken Shit Bingo takes place in a small dive bar in North Central Austin with about 15 tables, a chicken table, an old cowboy band, and a lot of beer. The concept is simple. Bring your lawn chairs (a tip provided by Yelp!), place your bets, watch old ladies feed the two chickens, and if the chicken shits on your numbers you win…BINGO! This event is rough around the edges, but an Austin classic.
3. National Karaoke League – Facebook
@Egos and other bars in Austin in February
The National Karaoke League is the home of competitive, team-based karaoke in America. Every season, each NKL division host weekly competitions for men and women ages 21 and up, in which league members sing their hearts out as members of "karaoke teams". If you've ever belted out Journey at the top of your lungs or totally owned on a group version of "Sweet Caroline", then you've come to the right place. Everyone in the host bar gets to vote for their favorite teams and performers across three rounds, and at the end of each season one team is crowned "National Karaoke Champions". The spring league starts in mid-February, but registration opens in January.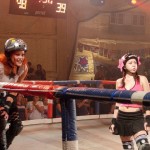 4. Texas Roller Derby Lonestar Rollergirls – Facebook
@Austin Convention Center Downtown in March
Someone from every clique, age group, culture, and every other demographic has been to see the Rollergirls: Hollywood directors, monks, bikers, bachelorette partiers, college students and professors, and individuals from across the globe have come to see the ladies of TXRD skate their hearts out. From spank alley to pillow fights, there's no real way to describe this event. It's definitely one you need to see to believe.
5. Eeyore's Birthday Party
@Pease Park on a Saturday in April at 11:00 a.m.
Eeyore's Birthday Party is a fundraiser to benefit non-profit groups in Austin. Plan to wear a costume, get your face painted, listen to love music and musicians who bring their own instruments, and play with all the other characters that show up to Eeyore's Birthday. It's a party y'all!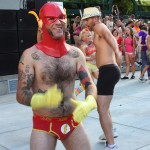 6. Austin Undie Run – Facebook
Friday, May 4th from 7:00 to 9:00 p.m.
@UT Drag on Guadalupe near University Co-Op 
The Undie Run® is an organization dedicated to raising funds and donating clothing to a specific charitable cause each year. The Austin Undie Run combines charity, half naked college students, and a run to achieve their goal. You show up to the event, donate the clothing you're wearing, and head down the street running. Sounds sexy to us!
7. US Air Guitar Competition – Facebook
@501 Studios in May 
Each US Regional competition will consist of two rounds. In Round 1, each competitor performs to a song of their own choosing. In Round 2, the top competitors from Round 1 perform to a surprise compulsory song. In each round, contestants perform for one minute of a song and are judged on a combination of technical merit, stage presence, and "airness." All guitars must be invisible. Although it's only an air guitar, to these people it's real and it's spectacular!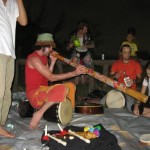 8. New and Full Moon Drum Circle
@MoPac Tunnels Under 5th and MoPac all year long at 9:30 p.m. 
We've never been to this, but we imagine this would be a pretty cool thing to check out. Drums circles are fairly common in Austin. You'll find them around Barton Springs,  Festivals, and in people's front yards. We recommend you do a little more  research to confirm if this is still going on when you're looking to attend. From our understanding they occur every time there's a new or full moon. Whether you're bring a drum or just watching, they ask for you to bring a candle to help light the night. Enjoy the sounds of the drums under the new moon!
9. Neked Swimming at Hippy Hollow
@Lake Travis, Gay Section of Hippy Hollow  in Summer Months
Hippy Hollow is a clothing optional "beach" that sits on Lake Travis. The park is over 100 acres and is only 20-30 minutes from Downtown Austin. There is a gay and straight area that visitors have established, however there is plenty of space if you're looking to get away from the crowds. The gay section is towards the end of the path. Over Labor Day, visitors and locals meet out at Hippy Hollow for the annual Splash Days in Austin.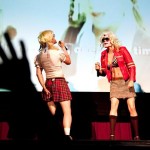 10. Alamo Drafthouse Sing-Along – Facebook
@Alamo Drafthouse Typically Thursday-Saturday around 9:45 p.m. to 11:30 p.m. 
If you've never been to a sing-along, you DEFINITELY have to check one of these out! Located at the Alamo Drafthouse, choose the sing-along you enjoy most and get ready to sing your heart out. We suggest the Pop Princess, Women of the 80's sing-along, or QUEEN for a hysterically good time, but they have all sorts of sing-alongs. A tip about the Alamo Drafthouse is to get there about an hour early to get in line and get great seats. The theatre fills up very very quickly. We suggest one person goes early for every three in your group. This way you can save all the appropriate seats. Here's the link for  the National Championship Event.
11. East Austin Zombie Pub Crawl
@East Austin in October from 7:00 p.m. to 2:00 a.m. 
Based on Minneapolis' famed Zombie Pub Crawl, East Austin now has its own. Join hundreds of brain sucking zombies as they walk the streets of East 6th St., stumbling around, drinking at some of East Austin's best bars. With hundreds of zombies in attendance, it is sure to be a mind numbing experience! East Austin Zombie Pub Crawl Instructions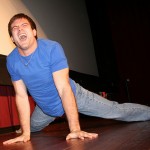 12. Air Sex League and National Championship – Facebook
@Alamo Drafthouse or The Highball Austin in December 
This is a lot like Air Guitar, but instead of rocking out with an imaginary guitar, you're making sweet and/or filthy love with an imaginary sex partner. You choose a clip of music, you show up in whatever sort of wardrobe you like, and you come up on stage and show everyone how you do it. Or how you wish you could do it. Or how you once had it done to you, and oh my god was that a bad idea and while it's embarrassing to show that act to a room of strangers, you know that you need to do it now in order to make sure that no one else falls down the same rabbit hole you got stuck inside. Or, you know, just do it however you want. The only rules they have are the laws laid down by the state we're in. Since most Air Sex venues serve alcohol, you can't get naked. And since some also serve food, all orgasms have to be simulated (or at least arguably so). Other than that, you're free to do whatever it takes to impress the judges, the audience in the theater, and the world!
If you have any events that we should include in this post, feel free to message us! Learn more about what you should be doing your first year in Austin by following us on Facebook or Twitter!