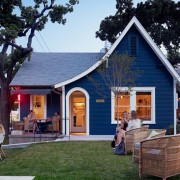 While historically Clarksville has ranked #1 on this list, it has recently stepped down from this spot. Still very desirable because of its proximity to downtown, culture, and overall walkability, this area will always remain in the top for the LGBT community searching for a progressive and accepting community.
Clarksville has a glowing reputation in the City of Austin as one of the most upscale and beautifully historic neighborhoods. This inviting neighborhood is mere steps away from the world-famous entertaining 6th Street and feels like a little village in the midst of an urban setting. Historic homes share the Clarksville's landscaped streets with mom-and-pop shops, record stores, and funky restaurants that are sure to leave any new Austin resident, coming back for more.

Situated comfortably between downtown on the East and Tarrytown on the West, this neighborhood offers a strong residential feel with a plethora of LGBT owned restaurants like Galaxy Cafe, Zocalo Cafe, and Jeffery's of Austin situated in the West Lynn Biz District. With historical homes, bungalows, and new modern homes in the area, this is the perfect urban neighborhood if you're looking for a space close to downtown.
To get a more in-depth look at what Clarksville has to offer, feel free to browse REATX Real Estate and contact The Kosarek Team to assist you in renting, buying, or selling a home in Austin.