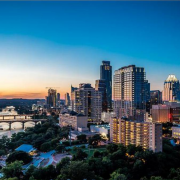 There is no denying the power and thrill that comes with living downtown in any major metropolitan area–unlike most mid-sized cities in America, Austin's downtown living is the crème de la crème and growing every year. With just about every type of restaurant cuisine, business services, and outdoor activity you can imagine; downtown is the place to be when living in the City of Austin. More than that, if you take a brisk stroll through Austin's luxurious downtown living, you're bound to catch a friendly glance from one of the many gay men and women who have chosen to live the vivacious life that is downtown.
What exactly makes downtown condos and apartments so illustriously attractive? With the flagship Whole Foods located on the West side of Downtown, condo buildings like the Austonian, 360 Condominiums, Spring Condominiums, W Residences, Seaholm Residences, Austin City Loft, and the new JW Marriott Residences–downtown living can cater to even the most fickle of individuals.
And for those social butterflies that love meeting new people and becoming acclimated with LGBT leaders and friends alike, the GayInAustinTexas.com Happy Hour is one event to book as soon as you land in the glass city that is Austin. The happy hours are typically held in unique and upscale lounges, followed by an evening at the gay bars in Austin. With an active Downtown Austin Neighborhood Association, which holds a monthly Urban Core Happy Hour, there's always an opportunity to meet progressive, educated, and open minded people. 
With a constant flow of events happening downtown and homes sure to impress, downtown Austin is a major player in the real estate market. To learn more about the exciting life downtown has to offer and all of it's newest upscale living, enlighten your mind here: austintowers.net
To get a more in-depth look at what downtown Austin has to offer, feel free to browse REATX Real Estate and contact The Kosarek Team to assist you in renting, buying, or selling a home in Austin.