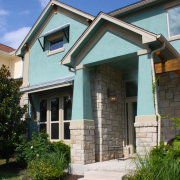 Located only three miles from downtown Austin, and two miles from the University of Texas, this relatively new development is filled with a plethora of contemporary homes that you might expect to see on the Silver Screen. Homes with three stories, homes with bright pastel colors, all sitting atop a variety of small hills that create an ambiance that you might expect to see in the City of Los Angeles. Developed in 2005 on a 700 acre site that use to be the old Austin airport, a new urban village has emerged. The amenities and modern homes with a classic look have definitely caught the attention of the LGBT community in Austin.
The Mueller development boasts a newly built park and pond, located right next to a variety of upscale condos, homes, and apartments such as the AMLI, The Mosaic and The Elysian at Mueller. Setup as an urban village, Mueller is known for their smaller lots while offering a variety of different sized homes to accommodate all different types of home buyers. But don't jump to the conclusion that this beautifully contemporary neighborhood is just for those looking to settle down. There is plenty of space for affluent professionals looking for a more refined taste of Austin.
Whether you're on the market for a newly built home or simply looking to find a condo with modern amenities and upscale appliances, the Mueller neighborhood might just be the right type of shoe, or heel for some of you. To get a more in-depth look at what Mueller has to offer, feel free to browse REATX Real Estate and contact The Kosarek Team to assist you in renting, buying, or selling a home in Austin.