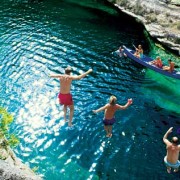 If you've ever heard of the internationally renowned Austin City Limits (ACL), or been lucky enough to relish in one of the craziest times of the year with fellow music lovers, then you know Zilker Park. This beautiful park nested in downtown Austin is home to several of the country's largest festivals including: South by Southwest (SXSW,) Austin City Limits (ACL) Music Festival, and the Blues On The Green. If music festivals get your blood pumping and invigorate you, then this neighborhood might just be what you're looking for. 
Situated next to the "Central Park" of Austin, Zilker Park is also home to many of the holiday festivals like the Zilker Park Holiday Tree, Trail of Lights, New Years in Austin, the 4th of July Fireworks. While this area can get a little hectic when the large festival and holiday festivities are going on, the Zilker and Barton Hills neighborhoods benefit from their close proximity and walkability to the events.
Aside from the multitude of exciting events occurring at Zilker Park, the neighborhoods boast an incredibly close proximity to Austin's premiere Lady Bird Lake, a series of hike and bike trails, and access to some of the best schools in Austin. During the summer months, you will also find the LGBT community and families in the area taking advantage Barton Springs, the Greenbelt, and the Zilker Theatre Productions. It's no wonder that this area tends to be filled with LGBT folks that enjoy an active lifestyle and families looking for a neighborhoods with good schools.
Offering a mix of 1950's to 1980's architecture, many of the homes have been fixed up or offer a great selection of mid-century architecture that is prime to be renovated and made your own. In recent years, there has also been a surge of infill development that has brought new modern homes and condos to the area.

If you're looking for an area that is both close to the heart of Austin, filled with exercising Austinites, and decorated with trees lining the streets, then Zilker and Barton Hills may just be the perfect place to find your home.
To get a more in-depth look at what the Zilker and Barton Hills neighborhoods have to offer, feel free to browse REATX Real Estate and contact The Kosarek Team to assist you in renting, buying, or selling a home in Austin.