Ready or not, the plump jolly white-haired bear is on his way to town! With holiday parties kicking off this weekend, there will be a few days in-between that will allow you to experience the holiday cheer around Austin. Whether you've recently moved to town, there are PLENTY of events that will give you the opportunity to meet new people. So put on your santa outfit, grab your favorite beer mug, and check out the Twelve Gays of Christmas in Austin! Plus two extra days, as if you needed them!
Most of these events are playing throughout the holiday season. We've chosen dates that will allow you to check out an assortment of holiday events in Austin.
Saturday, December 8th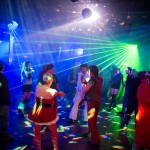 2012 Santa Pub Crawl-REGISTRATION REQUIRED (Drinking, Exercise)
West 6th St. Downtown from 4:00 to 9:30 p.m.
Bobby Cook's Big Gay Holiday Brunch
219 West on W. 6th St.
Gnap! and PIP Present: Centaur Claus vs. The Fudge Military (Theatre, Improv)
Salvage Vanguard Theater at 8:00 p.m., Cost $10
Capital City Men's Chorus Holiday Concert (Performance)
University Baptist Church at 4:00 p.m.
Annual Holiday Beer Tasting (Dining, Drinking)
Gingerman Pub Downtown at 3 p.m., Cost $35
Sunday, December 9th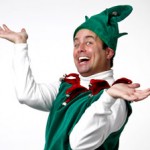 2012 Annual Brown Santa 5K – REGISTRATION REQUIRED (Outdoor Activity, Exercise)
12317 Technology Blvd. at 8:15 a.m.
National Lampoons Christmas Vacation at The Paramount
Paramount Theatre at 6:30 p.m., Cost $10
David Sedaris' The Santaland Diaries – TICKETS REQUIRED (Theatre, Performance)
Zachary Scott Theatre  at 2:30 p.m., Cost $40
Monday, December 10th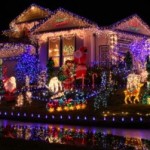 Blue Genie Art Bazaar (Holiday Gifts)
The Marchesa Hall & Theatre Near Highland Mall from 10:00 a.m to 10:00 p.m., Cost  Free
Christmas Lights on 37th St. (Outdoor Activities)
37th St. in Near Hyde Park at Dusk or Once Dark Enough, Cost Free
Bad Santa at The Paramount Theatre
The Paramount Theatre at  6:30 p.m., Cost $10
Tuesday, December 11th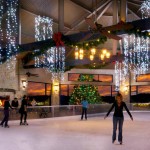 Ice Skating! Plaza at Whole Foods (Downtown)  –  Barton Creek Resort (West) – Oasis (Lake Travis)
Different Venues in Austin from 6:00 to 9:00 p.m., Cost $10-$21
Wednesday, December 12th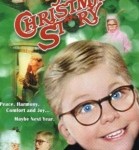 Elf Quote- Along at Alamo Drafthouse Lakeline
At the Alamo Drafhouse Lakeline at 7:00 p.m., Cost $12
Thursday, December 13th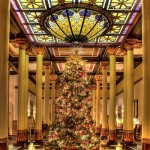 The XMAS Pop Sing-Along at Alamo Drafthouse Ritz
At the Alamo Drafthouse Ritz at 9:45 p.m.
1/2 Price Happy Hour Christmas "Dinner" at the Driskill Hotel Bar and
Check Out Their GORGEOUS Christmas Tree (Live Music, Dining)
Driskill Hotel on 6th St. Downtown at 6:00 p.m., Cost Free (Pay for whatever you order)
Esther's Follies Holiday Show – TICKETS REQUIRED (Theatre, Improv)
Esther's Follies on 6th St. at 8:00 p.m., Cost $20-$27
Friday, December 14th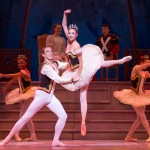 Ballet Austin Presents: The Nutcracker – TICKETS REQUIRED (Theatre, Symphony, Performance)
The Long Center in South Austin at 7:30 p.m., Cost $12-$71
Over the River and Through the Woods – TICKETS REQUIRED (Theatre, Improv)
The City Theatre in East Austin at 10:00 p.m., Cost $10

Saturday, December 15th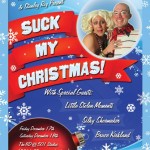 Armadillo Christmas Bazaar (Holiday Shopping)
Palmer Events Center in South Austin from 11:00 a.m. to 11:00 p.m.
Cost $5 before 7 p.m.,  $8 after 7 p.m. and Weekends
Christmas Apocalypto with Rebecca Havemeyer & Stanley Roy – TICKETS REQUIRED (Performance, Drinking)
ND at 501 Studios in East Austin at 8:00 p.m., Cost $12
Kelly Willis & Bruce Robison Holiday Show with the Gourds – TICKETS REQUIRED (Theatre, Live Music)
The Paramount Theatre at 8:00 p.m., Cost $30-$50
Sunday, December 16th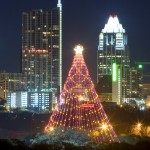 Get a Photo Under the Zilker Park Christmas Tree (Outdoor Activity)
Zilker Park in South Austin from 6:00 p.m. to 12 Midnight, Cost Free



Monday, December 17th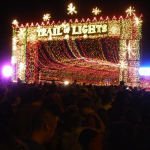 Walk the Zilker Park Trail of Lights
Zilker Park at 6:30 p.m. to 10:00 p.m., Cost Free


Tuesday, December 18th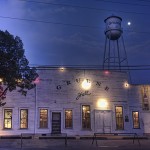 Holidays in Gruene, Texas- TICKETS REQUIRED
At Gruene Hall in Gruene, Texas (30 minutes South of Austin)
Call Gruene Hall for Times and Cost – www.gruenehall.com
Wednesday, December 19th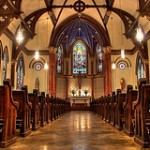 A Very Pink Christmas with The Austin Baptist Women (Performance, Drinking)
Oil Can Harry's on 4th St. at 7:00 p.m., Cost is Suggested $5 at Door
Celtic Christmas at the Cathedral – TICKETS REQUIRED ( Performance, Live Music)
St. Mary's Cathedral Downtown from 7:30 p.m. to 9:30 p.m., Cost $25
New to Austin? Looking for events around town which will allow you to meet more people? Follow us on Facebook.
Photo Credit: Santa Pub Crawl on 6th St. , Jigglewatts Birlesque, Santaland Diaries, 37th St. Christmas Lights, Barton Creek Resort Ice Skating Rink, A Christmas Story, Driskill Hotel Christmas Tree, Ballet Austin's the Nutcracker, Zilker Park Christmas Tree, St. Mary's Cathedral, Gruene Hall, Trans Siberian Orchestra