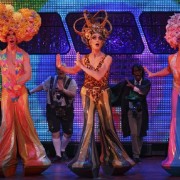 You may recognize that line from the fabulous 1994 film, The Adventures of Priscilla, Queen of the Desert. Speaking of fabulous things, A*FAB Austin has the best seats in the house for Broadway Across America's May 9th Presentation of Priscilla, Queen of the Desert. The musical tells the story of two drag queens and a transsexual making their way across the scorched earth of the Australian outback. As you can imagine, hilarity, song and dance ensue.
Your tickets include a pre-show cocktail party at 6:30 followed by the performance at 8:00 p.m. at the Bass Concert Hall.
To purchase your tickets click HERE and be sure to include the special offer code of afabaustin.
To learn more about AFAB Austin visit them at AFABAustin.org
Want to try and win 2 tickets? A*FAB Austin is giving away two tickets to Broadway Across America's "Priscilla Queen of the Desert" – Follow @afabaustin on Twitter and retweet http://ow.ly/h6K9x up to 5 times a day until Feb 6.
[youtube http://www.youtube.com/watch?v=CdC0OxLFtpY&hl=en_US&version=3&rel=0]