Jul 28, 2014
Comments Off

on GIATX.com is Looking for Happy Hour Volunteers!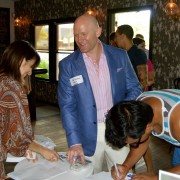 Held the first Thursday of every month, GayinAustinTexas.com holds a Happy Hour for people that recently moved to Austin and current Austinites looking to expand their social circles. Now the largest monthly LGBT event in Austin, we are looking for volunteers and greeters to help at the event.
If you're looking to get involved, whether it be at the event or behind the scenes, we're looking for volunteers and greeters. This is a great opportunity to meet hundreds of people every month. If you're interested, please join this group and we'll keep you posted on future events.
Here's how it works: If you're interested, click the link above to join our facebook group. Once you click "join" and are part of the group, use the following hash tags to let us know how you're interested in getting involved. You can use one or any that apply.
#HappyHourGreeter  
(This role will greet guests at the Happy Hour for one hour at the front table)
#HappyHourVolunteer    
(This role will help setting up at the happy hour, taking this down, and possibly a run to pick something up)
#HappyHourPlanning     
(This role will be involved with picking venues for the Happy Hour)
#WebDesign    
(This role will help with creative changes to the website and HTML coding)
#BlogContributor      
(This role will is great for creative writers who are passionate about Austin's LGBT community)
As we continue to build this amazing community, assistance is always appreciated! We thank you in advance for joining our group and offering your time! Have yet to visit a GayinAustinTexas.com Happy Hour? Check out photos here!