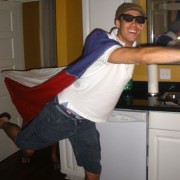 Let me tell you about one of my first 4th of July's in Austin and how NOT to embarrass yourself. Although looking back, it's one of my most memorable, it was clearly one way to make an impression in Austin. I was invited to a joint birthday party at this place that overlooked Town Lake to celebrate and watch the fireworks. The guy that invited me was an actor and performed around town at different theaters. To this day, he is still one of the most animated, entertaining guys I've met in Austin. From what I knew about him at the time, it seemed pretty normal for him to throw a holiday themed party and ask everyone to dress up. So I gathered a few of my friends and found my most patriotic 4th of July  outfit which consisted of my paper boy hat, white polo, 3-D glasses to watch the fireworks, blue cargo shorts, patriotic boxers I wear every 4th of July, and I thought I would find an american flag to wear as a cape. I couldn't find an american flag, so I used the red, white, and blue Texas flag I had and I was ready for the party! I gathered my patriotic friends, walked over to the party, took the elevator up to the 15th floor, knocked on the door, and the party came to a stop! Outside the door stood a group of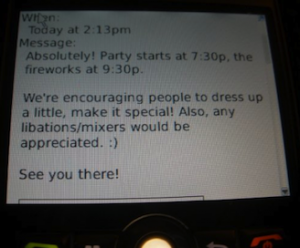 guys dressed as patriotic as possible and on the other side of the door stood a party where everyone was dressed to a T in their best black and white attire to celebrate their friend's birthdays. Ooops! The good news is we didn't have to wait in line to get a drink and once everyone warmed up to us, we quickly became the hit of the party.
The moral of the story and lesson learned – whatever you do on the Fourth, own the night and rock out your American pride! Life's too short not to have fun every step of the way. Oh, and maybe clarify what somebody means when they invite you to a 4th of July party and ask you to dress up! Enjoy your night and have a great 4th of July!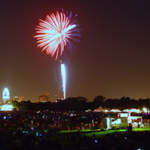 1. Austin Symphony 4th of July Concert + Fireworks: This year I plan to make it all the way up to the front to watch the symphony and fireworks! I've visited Zilker Park several times before to hear the symphony and watch the fireworks, but I've always sat in the back. Not this year! Don't wait seven years for this experience. Do what you have to do to work through the crowd of 100,000 people to make it to the front and experience this patriotic event! Symphony starts playing at 8:30 p.m. and fireworks start at 9:30 p.m.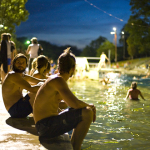 2. Barton Springs Freedom Dip: If you are attending the 4th of July Concert and Fireworks at Zilker Park, consider getting there early to take a dip at Barton Springs across the street. It's a great way to gather at one of Austin's favorite spots, cool off, and watch all the crazy people that make our city so interesting.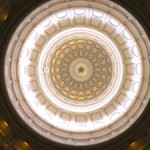 3. Visit the Capitol: Freedom is freedom and there's no better way to celebrate than to tour one of our nation's capitols! After you're done at the Capitol, walk over to the Bob Bullock Texas State History Museum to visit the Texas Spirit Theatre and learn about the story of Texas.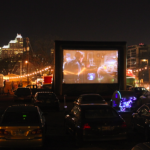 4. Blue Starlite Urban Mini Drive-In:  It's only appropriate that this drive-in movie theatre shows Independence Day on the big screen today! If you're not up for dealing with crowds, this is a great way to enjoy the holiday in the safety of your own car. Remember to pack a cooler and brings your favorite 4th of July treats and beverages. Show starts at 9:00 p.m. and you can buy tickets by clicking on the link.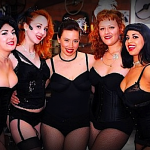 5. Patsies for Patriots Burlesque Benefit Show: With the fireworks ending at 10 p.m., that will give you enough time to head on over to the Parish on 6th Street for a good ol' drag show…I mean burlesque show at 10:30 p.m. What gay or lesbian don't love a good set of real boobies? Join the Bat City Bombshells as they take you back to enjoy a classic burlesque show as they honor our troops!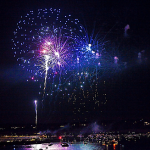 6. The Right to Bare All: Well in most places you don't have this right, but at Hippy Hollow you do. Head to Hippy Hollow, Austin's only clothing option beach, where a lot of people tie their boats up and will be swimming all day. If you don't know anyone, that's ok. Head out there and make some friends. People will typically invite you on to their boat if you're not too creepy. If you have a group of friends, rent a boat at Just for Fun and drive over to Hippy Hollow. Volente Beach will be putting on fireworks over Lake Travis, so if you stay late enough you can see the fireworks. Carlos and Charlie's is also having a 4th of July Concert and LC Rocks will be playing.
Photo Credit: Drive-In Theatre, Burlesque Show, Lake Travis