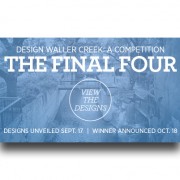 On Monday, September 17th the Waller Creek Conservancy and the four finalists for the Waller Creek Design will release  their project renderings and design concept summaries. The design concepts will be on public display from September 17th, 2012 until September 30th, 2012. On October 2nd, the jury for the Waller Creek Conservancy will start evaluating the design concepts, receive the teams' presentations, and rank the teams. On October 12th, the jury's recommendations will be submitted to the governance group.  This group will then make the final decision and announce the winning design team and concept on October 16th.
(Click to Review Finalists Project Renderings + Design Concept Summary)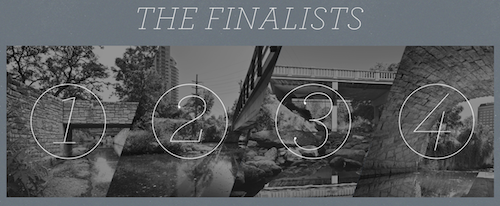 In addition to the stationary display, the Waller Creek Conservancy will have a mobile display traveling around Austin. Check out the final four design concepts when they come near you, and give the Waller Creek Conservancy your feedback.
Sept. 17-19 UT School of Architecture
Sept. 20-21 City Hall
Sept. 22 The Bob Bullock Texas State History Museum
Sept. 23-24 UMC Brackenridge
Sept. 25-26 Blanton Museum Of Art
Sept. 27 Northwest Recreation Center
Sept. 28 Cantu Pan American Recreation Center
Sept. 29 SFC Farmers' Market Downtown – Austin
Sept. 30 HOPE Farmers Market
Jude Galligan, the publisher of the DowntownAustinBlog.org and Broker of RE/MAX Downtown Austin, had a chance to walk the tunnel. Here's the video he recorded to share with his readers with the progress they're making on the underground tunnel.