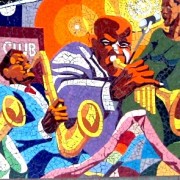 Being in real estate, I come across a lot of people moving to Austin. One of the initial conversations I have with someone relocating to town it to discuss which part of Austin would be the best fit for them. Prior to arriving in town, it's typical for a person to do a little research online, ask a few friends where they should live, and maybe speak with a real estate agent. It's not uncommon when speaking to someone about neighborhoods in Austin that a person says "I've been told not to live East of I-35." As a resident of East Austin, and a real estate agent, I tend to roll my eyes, go into my spiel about why the East side is actually the best part of Austin, and then go on to debunk the myth about East Austin being the "bad" side of town.
Just like South Congress Avenue use to be in the late 1990's, East Austin use to be considered the "other side of the tracks." Here's a quick history lesson if you're new to Austin. When I-35 was built over East Ave. back in 1920's, it created a racial divide in Austin. According to the Downtown Austin Blog, deed restrictions actually kept African-Americans and Mexican-Americans east of the Avenue until actual segregation laws were passed in the 1920's. Because of this, poverty levels were concentrated on the East Side of Austin. While East Austin is not filled with perfect homes and white picket fences, the East Side has come a long way since the 1920's.
Today, people move to East Austin specifically for the culture, diversity, restaurants, and entertainment. Although long-time and new residents of East Austin are working to preserve the culture and diversity while maintaining affordable housing, gentrification is naturally occurring given its proximity to Downtown Austin. Dilapidated homes are being torn down, new homes are being built, old homes are being restored, and mixed-use condo developments are slowly popping up. While some may say East Austin still has a ways to go, I say watch out! The infrastructure has been laid, gentrification and preservation are occurring, and it's only a matter of time before the rest of Austin discovers the charm and lifestyle that is East Austin. Let me explain a little about life in East Austin so you can understand what makes it the best part of Austin.
With Downtown to the West, the river and running trails to the South, the international airport to the East, and Tech Corridor to the North, East Austin has access to a lot of conveniences and amenities that other parts of Austin don't. Filled with turn-of-the-century, mid-century, and modern homes, housing on the East Side is as diverse as the occupants themselves. Made of historic neighborhoods like East Cesar Chavez, Holly, Cherrywood, French Place, University Hills, Rosewood, and the newest addition…the Mueller neighborhood, East Austinites take great pride in their neighborhoods.
Work in progress…Article will be edited and completed soon. In the meantime, you may benefit from some of this information.
To keep up with GayinAustinTexas.com, follow us on Facebook, Twitter, or receive direct email updates. If you have any questions or suggestions, please feel free to contact us.
Photo Credit: Aerial view of Austin