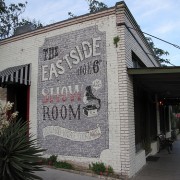 East Austin has taken over as the #1 neighborhood for the LGBT community in Austin. Because of its proximity to downtown, the hike and bike trail along the river, new restaurants from Austin's top chefs, trendy bars, and entertainment, we're seeing gay people buying up condos and homes on the East side.While many people relocating to Austin are often intimidated by it's outdated reputation for being the "other side of the tracks", don't let this quickly gentrifying neighborhood fool you! In 2013, Fordham Institute released a list of the country's fastest gentrifying neighborhoods and East Austin (78702 particularly) came in at #5. The cultural diversity, history, and families that have lived here for over fifty years are part of what makes this side of town charming.
Compared to Clarksville, which sits directly West from East Austin on the other side of downtown, East Austin offers the same proximity to downtown. While we have seen a rise in prices over the last decade because of the demand, it should continue to see strong growth as projects like Waller Creek, Rainey Street District, and main corridors along Cesar Chavez, East 6th/7th, and East 11th/12th (coined East End Biz District) continue to grow.
To get a more in-depth look at what East Austin has to offer, feel free to browse REATX Real Estate and contact The Kosarek Team to assist you in renting, buying, or selling a home in Austin.