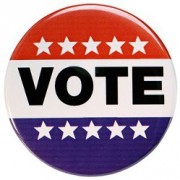 If you've recently relocated to Austin, and you're registered to vote, it's important to get out and use that vote. Here are links to find voting locations and a couple of websites to read more about candidates and city bond propositions.
Voting Locations in Travis County
Election Day Vote Centers are in effect for this election.  You may vote at any polling location where you see a "Vote Here" sign. Polling locations are open Tuesday November 6, 2012 from 7:00 am to 7:00 pm
Voting Locations in Williamson County
Election Day Polling Places Tuesday, November 6, 2012 Polls Open 7am to 7pm. Williamson County voters must vote at their assigned precinct's polling location on election day.
The Austin Chronicle always publishes a list of the candidates and city bond propositions they endorse. They do lean Democratic, but provide great explanations of why they are endorsing certain candidates and bond propositions.
Austin Chronicle: Candidate and City Bond Proposition Endorsements
And if you're still confused about Prop 3 and Prop 4, here's an op-ed article Mark Gilbert wrote about these propositions. It has links for both sides so you can research and make an educated decision.
Why You Should Vote No on Proposition 3
AND make sure to VERIFY your vote on the last page. There's been a few instances in Travis County where people have voted for a straight party ticket and when they got to the summary on the last page, the presidential candidate was changed to the opposing party. So please review to ensure the summary matches who you voted for.