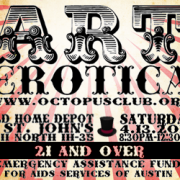 Being an Austin native, I've seen a lot of change in this city. Over the past 10 years Austin has received a big makeover. There is never a lack of places to go or things to do. One of my favorite things about Austin is that there are so many great organizations to get involved with.
The Octopus Club is a grassroots, volunteer fundraising arm of AIDS Services of Austin (ASA) dedicated to raising awareness and funds for the Paul Kirby Emergency Fund through annual events and parties.
When I was approached about being a part of ArtErotica 2013 I have to admit; at first I was a little hesitant because it seemed like something that was way outside of my comfort zone. After getting involved, planning for the event, and learning about all the great things that the funds accomplish, I was hooked.
ArtErotica is one of the most anticipated parties of the year, raising over $75,000 last year for the Paul Kirby Emergency Fund. As with all Octopus Club events, 100% of the money spent at the event will go directly to this fund, which, in times of crisis, is there to assist in paying for food, rent, utilities, eyeglasses, and even medicine not covered by Medicaid, for friends and neighbors living with HIV and AIDS in Central Texas. Please check our website for more information for how you can get involved.
The event will be on April 13 this year and heart of the evening is based around an amazing art auction. 250 pieces will be featured and auctioned off at this year's event. The featured art will consist of out-of-the-box pieces from all mediums and dimensions. This event will have something for everyone. It's a great way to meet new people and to celebrate the creativity of local artists. Tickets for the event are available online for $50 in advance and $75 in person at the door!
Written by: Garrett Burnett