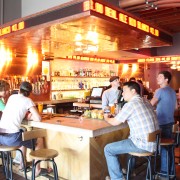 Thank you to Brew Exchange and RE/MAX Downtown Austin for hosting the August 2012 Gay in Austin Happy Hour. With close to 80 people in attendance, the feedback was overwhelmingly positive! The word is officially out this is a must-attend event if you're new in Austin or looking to break out of your social routine and meet new people. Multiple folks complimented the success of the event, but here's the compliment that stood out the most:
"This is the best mix of people I have ever seen for a Gay event in Austin. When it comes to age, it's either one extreme or other. This has the perfect balance of people."
So thank you for helping grow the event by inviting your friends that are moving to Austin and introducing them to the blog – GayinAustinTexas.com. If you're in the process of moving to Austin, you will definitely need to come out to the next happy hour. Our goal is to always have a unique and interesting mix of people at these events. Help us grow the Gay in Austin Happy Hour by liking us on Facebook and inviting your friends to the next happy hour.
Here are the photos from the event and I look forward to seeing you at the next event!