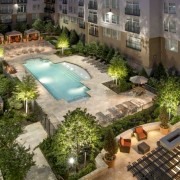 Five years ago, if someone would have told you that South Lamar would become one of the most modern and well-developed areas in Austin, they might have thought you were pulling a fast one on them. Contrary to that age-old belief, South Lamar has risen from its "weird" demeanor that Austin is known for and has grown to become a mecca for the LGBT community.
With an abundance of upscale restaurants such as Uchi and the brand new Alamo Drafthouse Cinemas, you are sure to enjoy living in this area which offers the perfect balance of classic Austin and modern amenities. Aside from the glitz and the glamour that has spawned in South Lamar, the area is also within biking distance of Zilker Park and Austin's titillating downtown scene.
Offering a variety of newly built condos and hotel-like apartments such as the Hanover, Cielo and the Post, South Lamar is an up and coming neighborhood attracting young professionals and families alike. This neighborhood that appears to be experiencing a facelift on a daily basis is going to garnish plenty of attention from newcomers, and with good reason. 
To get a more in-depth look at what South Lamar has to offer, feel free to browse REATX Real Estate and contact The Kosarek Team to assist you in renting, buying, or selling a home in Austin.