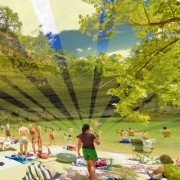 If you're considering a move to Austin, then you're probably wondering what the weather is like at different times of the year. While the saying in Texas is "if you don't like the weather, come back in 5 minutes", here's what to expect if you're moving to Austin.
January
January is our coldest month of the year. Ranging from 41 degrees to 62 degrees, we typically plan on a ice freeze or small amount of snow this time of year. Because Texas is not equipped with salt trucks to handle ice, the city will shut down if we get a good amount of rain and freezing temperatures. On average we'll get over 8 days of rain in January. Other than May, January is the rainest month of the year. This month tends to be more cloudy and rainy than sunny. Austinites enjoy this time of the year since it gives us a break from the heat and is the closest thing we have to experiencing four seasons.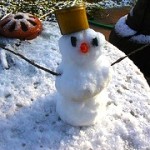 February
February is still a little chilly. Ranging from 45 degrees to 65 degrees, it's hit or miss this time of the year. This is the second cloudiest and rainest month of the year. But don't worry, amazing weather and blue skies are just weeks away. Although this month is cold, events like Carnaval Brasileiro and the Austin Marathon will be sure to keep it hot!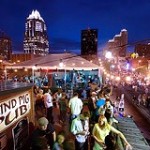 March
Once we've made it to March, winter (which is December to February) is pretty much over in Austin. With average temps of 51 degrees to 72 degrees, you'll start to notice more Austinites getting out around town. The Austin Kite Festival kicks off the spring and is one of the most magical times around town. Although we still get seven days of rain, they tend to be small showers here and there. Depending on the temperature, we will start to see Bluebonnet flowers popping up around town. Bluebonnets can come out as early as February and their blooming season peaks out at the beginning of April. A Texas tradition is to take family or couples photos in a field of Bluebonnets. If you're in a silly mood, it's fun sometimes to mock these people and go take silly photos in a field in crazy outfits. The end of March also brings the South by Southwest (SXSW) Festival, so you'll see a lot of folks from all over the world descending upon Austin. Combined with the spring weather and amount of people in town for the festival, Austin is bursting with energy during the last two weeks of March.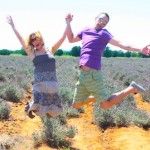 April
April is still a very enjoyable time in Austin. With average temperatures ranging from 59 degrees to 80 degrees, this is a great month for Festivals around Texas. Just an hour South, San Antonio is celebrating Fiesta and 45 minutes further Poteet is having the famous Poteet Strawberry Festival. April only has about 7 days of rain. If the year brings heavier periods of rain,  you'll  see the springs, swimming holes, and river beds in Austin flowing with water. During this month Barton Springs, Hamilton Pool, and other swimming holes around town are filled with Austinites looking to tan their winter bodies and enjoy the spring weather. If you enjoy camping, April is a great month to take advantage of the warm days and cool nights at the Texas state parks and campgrounds.
May
May is the last month of Spring in Austin. With June approaching, Austinites will start to feel the summer heat that is right around the corner. May brings temperatures averaging 67 degrees to 87 degrees. Still a very enjoyable time in Austin, May is our rainiest month of the year. Averaging about 9 days of rain in May, wildflowers are blooming everywhere and all the foliage is emerging in different shades of chartreuse. This is the best month for being outdoors and taking advantage of the hike and bike trails, rock climbing, cave diving, and floating the rivers.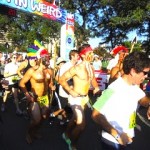 June
With average temperatures of 72 degrees to 92 degrees, Summer is officially ready to welcome you to Texas. This month will greet you with a random mix of events like the Republic of Texas Biker Rally, Keep Austin Weird Festival and 5k, and Queer Bomb! With the grass still green from the spring, Blues on the Green summer series starts in June. The warmer temperatures combined with about 6 days of rain has the potential  to bring some amazing heat storms. Anyone that has lived in Texas will tell you one of their favorite things in Texas is the sideways heat lightening storms the summer brings.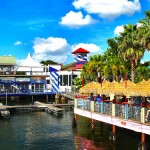 July
Summer has officially arrived in Austin! With average temperatures of 76 degrees to 96 degrees, this is the month that will teach you about our Warm Texas Nights. Night swimming at the Springs, sitting outside with a cold beer or margarita, and boating on Lake Austin, Lake Travis, or Town Lake are all things that make for amazing summers in Austin. With an average of 4 days of rain in July, this month is pretty predictable…warm or hot. Here's our one piece of advice for people moving to town. If you can move in the spring or fall, it will be a much more pleasurable and welcoming experience to Austin. If you have to move during the summer, just remember to drink lots of water and know it will cool down in a few months!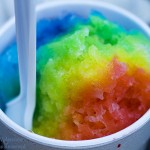 August
Unless you live in California, every city has its one month it would like to get rid of. In Austin, that month is August. With average temperatures of 75 degrees to 97 degrees, August is the peak for temperatures and the warmest month in Austin. When watching the weather channel, you'll quickly get use to the weather man saying "Well it's another hot and sunny day here in Austin, Texas." Hot weather apparently brings hot events like the Hot Sauce Festival, Batfest, and Zilker Summer Musical! How do Austinites get through it? We spend as much time by water (pools, lakes, springs, rivers, anything with water), put on lots of sun tan lotion, get lots of sno-cones, run at night instead of the day, and spend a little more time inside if we're tired of the heat. Once you've been in Austin a while, your blood will thin out and the summer heat won't phase you as much as it did when you first moved to town.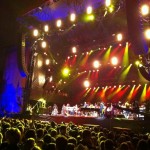 September
September is still a very warm month in Austin. Although "Fall" is right around the corner, temperatures still average about 69 degrees to 91 degrees. You'll notice things are starting to look a little parched around town, but this month's events will take your mind off the heat. September is Austin is probably one of the hottest for the gay community! With Gay Pride Austin, Austin City Limits Music Festival, and Splash Day in Austin over Labor Day weekend, you're definitely going to find yourself tired by the end of September. Talking about tired, it's pretty typical for Austinites to be tired of the heat by this point of the year. You can almost compare this month to February if you've ever lived in a city that gets lots of snow. You're just ready for the season to be over. But don't worry! Cooler temperatures will start to arrive towards the end of this month or early October.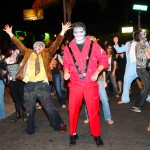 October
As the rest of the country starts to cool off, it's months like October the remind Austinites why they live in Texas. With average temperatures of 61 degrees to 82 degrees, October brings a new energy to Austin. People are back to running at normal times of the day, the restaurants with outdoor seating are booming with business, people start to dress really cute again, and the zombies take over Austin!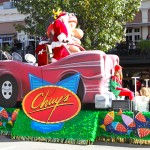 November
Once we reach November, Austinites have a lot to be thankful for. While the majority of the country lives through eights months of cold/cooler weather to enjoy two and a half months of summer, we have six months of fairly nice weather ahead of us. The average temperature in November ranges from 51 degrees to 72 degrees. Depending on the year, November has the potential to be a wetter month which we welcome since summers can be fairly dry. The temperatures in November still allow for great outdoor events like the Fun Fun Fun Fest, Wurst Fest, and Chuy's Children Giving to Children Christmas Parade.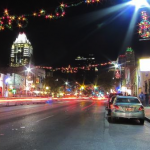 December
The biggest surprise for most people moving to Austin is the cooler temperatures that December brings. People assume since they're moving to Texas that it will always be warm. I hate to break the news, but the average temperature in December ranges from 42 degrees to 63 degrees. The coldest time of the year is late December to mid-February, but 'tis the season for cold weather! The cooler weather will put you in the holiday spirit to celebrate events like the Armadillo Christmas Bazaar, lighting of the Zilker Holiday Tree in Zilker Park, and Ballet Austin performances of The Nutcracker.
Learn more about what you should you should know your first year in Austin by following us on Facebook or Twitter!
Photo Credit: Hamilton Pool, Snowman, Keep Austin Weird Festival, Sno Cone, SXSW, Comal River Tube Floating, Hula Hut, 6th St at Christmas, Chuy's Parade